Considering crossings
When deploying a fiber network, techniques like horizontal directional drilling are costly to cross natural and not-so-natural boundaries such as rivers, railways, highways. You might even want to avoid these junctions altogether. In this latest Comsof Fiber release you can easily load these boundaries and consider the cost of crossing. The software will take into account these costs to provide the most cost-effective cable routes.
As the software automatically detects all crossings, your second option is to exclude these or some nodes from the routing options. The choice is up to you.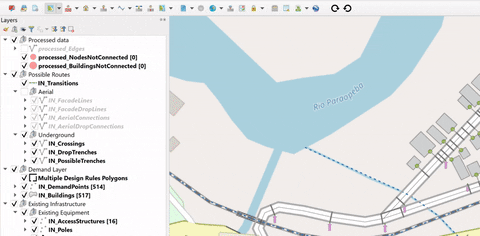 Optimizing brownfields
You want to keep your fiber network deployment investment to a minimum. And there might already be existing fiber in the ground ready to be reused for new FTTH deployments. With this release, you will be able to reuse these resources more efficiently. The Comsof Fiber routing algorithms can find the most cost-effective routes, while taking into account the available capacity of the existing fiber cables.
We realize every network deployment has its own challenges. This is why we keep on developing ways to support capacity routing constraints of aerial cables for example, existing ducts, or even trenches. Are you interested in these functionalities? Let's get in touch to discuss your project.
This is an improvement to a previous release.
Phased roll-outs
Network convergence is a hot topic. FTTH and 5G are obvious convergence candidates. And there are also convergence opportunities between fiber for residential premises and businesses.
You might only want to connect a segment of all points you plan to cover in a first phase of your network deployment. However, it makes economic sense to anticipate on connecting other points in the future.
Comsof Fiber now offers the possibility to indicate which equipment needs to be placed in a first rollout stage. In the design all points receive a connection and in addition the building stage of each point will be indicated. This is also visible in the bill of materials. This way you can plan future proof networks and avoid overbuilding your own network.
Want to learn more? Contact us!